Removable Dentures on Implants
Implant-Supported Removable Dentures
A flexible option for missing teeth
Are you missing all of the teeth on one or both of your jaws? Removable dentures could be the solution you've been looking for! Not only does supporting your removable dentures with implants keep them more secure, it's also an economical option for restoring your smile!
Similar to fixed dentures, these dentures are still supported by implants that hold them securely in place while you eat or speak. At the same time, they also provide added facial support if you have significant bone loss in your jaw. What makes them different is they can be taken out by the patient each day for quick and easy cleaning. Another advantage of implant-supported removable dentures is they typically cost about half as much as permanent implant-supported dentures. 
Would you like to talk more about the process of getting dental implants and if this might be the best option for you? Please call us today to arrange a free consultation!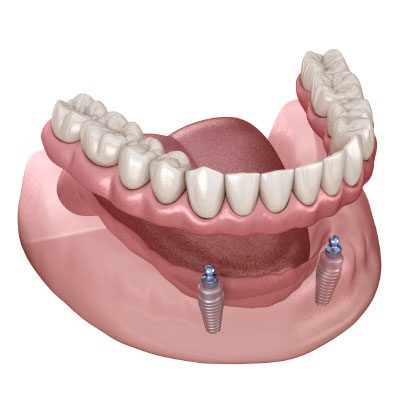 The benefits of implant-supported removable dentures
Removable dentures on implants can cost only half as much as permanent options

They can be cleaned faster and with less effort

Overdentures on implants can provide facial support for patients with facial bone loss by filling in any areas with missing bone
How much do implant-supported dentures cost?
The price of implant-supported dentures depends on how many teeth are created, and the specific type of prosthesis used on the implants.
What are implant overdentures?
Implant overdentures or implant-supported removable dentures consist of a removable dental prosthesis that's retained by implants. Other removable dentures may only be supported by the existing dental structures, so implant overdentures provide a lot more security and stability.
How many implants are needed for the upper jaw?
Most patients require four implants for a removable restoration in the upper jaw. For fixed options, six or more implants could be needed.
Does food get under denture implants?
Certain types of food may occasionally get caught between your dental tissues and your implant-retained removable dentures. Luckily, these dentures are easy to take out and clean!
Are implant-supported dentures removable?
Implant-supported dentures can be removable or fixed/permanent. The removable option is appealing because of the lower cost and the ease of cleaning and maintaining it on your own. 
How long do implant-supported dentures last?
These dentures could last from 5-7 years depending on wear and how well they're taken care of. In many cases, implanted-retained dentures wear out slightly faster because chewing function will be that much better which means you're able to enjoy more food options and chew more affectively, ultimately wearing down the denture teeth at a faster rate. As our patients tell us, it's a good problem to have!