Full Dentures for a Complete Dental Solution
Full dentures provide you with a comprehensive and effective way to recreate your smile and restore your dental health. With the help of professional denturists, you can get a custom set of dentures designed just for you. The best part is, full dentures can look just like natural teeth! The team at Lakeview Denture & Implant Centre knows just how important it is to get your dentures right. We are careful to use precise jaw measurements when we make custom moulds for your dentures, and we also use premium materials for the best result. 
They're also known as complete dentures, because complete dentures replace all of your natural teeth! Complete dentures are fitted precisely to your gums, easy to maintain, and they are held securely and comfortably in place. Our patients love full dentures because they help them look and feel their best again at only a fraction of the cost of full dental implants.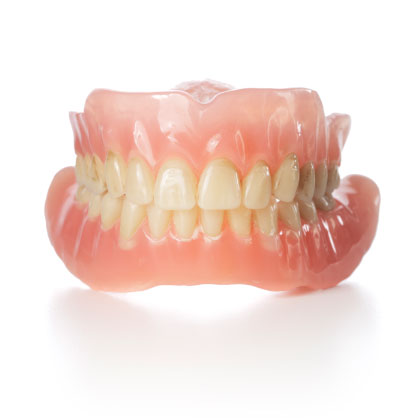 Would you like to find out if you are a good candidate for complete dentures? We would love to meet with you to discuss your options. Please call us today to book a free consultation where we can guide you through your denture options and provide you with a quote.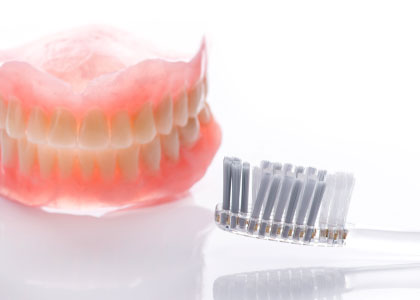 Useful tips for wearing full dentures
Practice good dental hygiene habits:

Maintaining your oral health and protecting your dentures and natural teeth starts with good oral hygiene. Be sure to clean your natural teeth and dentures daily. 

Give your mouth a break at night:

Removing your dentures while you sleep is recommended. This gives your gums a chance to recuperate from any pressure, and it's also a good time to clean your dentures.

Cut your food into small pieces:

Eating and chewing comfortably with a full denture is possible! Be sure to cut your food into small pieces to make it easier to consume and keep water nearby while you eat.

Ask your denturist for advice: If you're experiencing any discomfort or difficulty with your full dentures, reach out to your denturist for advice! We are happy to help and eager to provide you with a solution.
How long do full dentures last?
Each patient is different, but the usual denture lifespan is 5-7 years, although it is sometimes slightly longer depending on foods eaten, habits, and other factors. By the 10-year mark, it usually means dentures are excessively worn and it will be difficult to get a new set that feels comfortable as quickly. That's one reason it's so important to maintain and replace them as needed.
How many teeth are in full dentures?
A full set of natural adult teeth consists of 32 teeth but most full dentures have 28 teeth. Sometimes, we drop a smaller molar (pre molar) to make room where there isn't much, and in that case, only 24 teeth are used. Without enough teeth on your denture, you risk losing the form and function of your jaw. It will also be more difficult to eat, chew, and speak effectively without sufficient denture teeth. 
During a consultation with us, we can discuss how many teeth would work best for you with your full dentures.
What does getting dentures involve?
The denture process is different for each patient, and some require only a few appointments while others require more visits to the denturist. New technology and premium materials have made it easier and less invasive than ever before to get a full set of dentures.
How can I determine denture quality?
The more natural denture teeth look, the better quality they tend to be. When dentures are crafted with premium materials and by skilled denturists, they will look more natural and fit better than lower quality dentures.
How much are full dentures?
Please book a no-obligation consultation with us to get a specific cost estimate for your complete dentures, including the type of denture and materials you would like. 
What are the best dentures to get?
The best dentures are those that are created with modern techniques, premium materials, and highly-trained denturists. At the same time, the right denture for you also provides a solution to any dental difficulties or discomfort you are currently experiencing. 
Can you get dentures that look like real teeth?
Absolutely! Dentures look more natural and function more efficiently than ever before. When you work with skilled denturists who use premium materials, you will be amazed at the results.